first friday art walks
promotional campaign
Branding   |   Print Design
First Friday is a monthly event in Lincoln, Nebraska that features exhibits of local artists at over 30 of Lincoln's downtown galleries. This event is a key part of downtown Lincoln's creative community and allows artists to express themselves through a variety of artistic styles. This new promotional campaign is geared towards the eccentric creatives of Lincoln, other artists who visit galleries when they are not hosting exhibits, and those who are trying to explore the Lincoln art scene.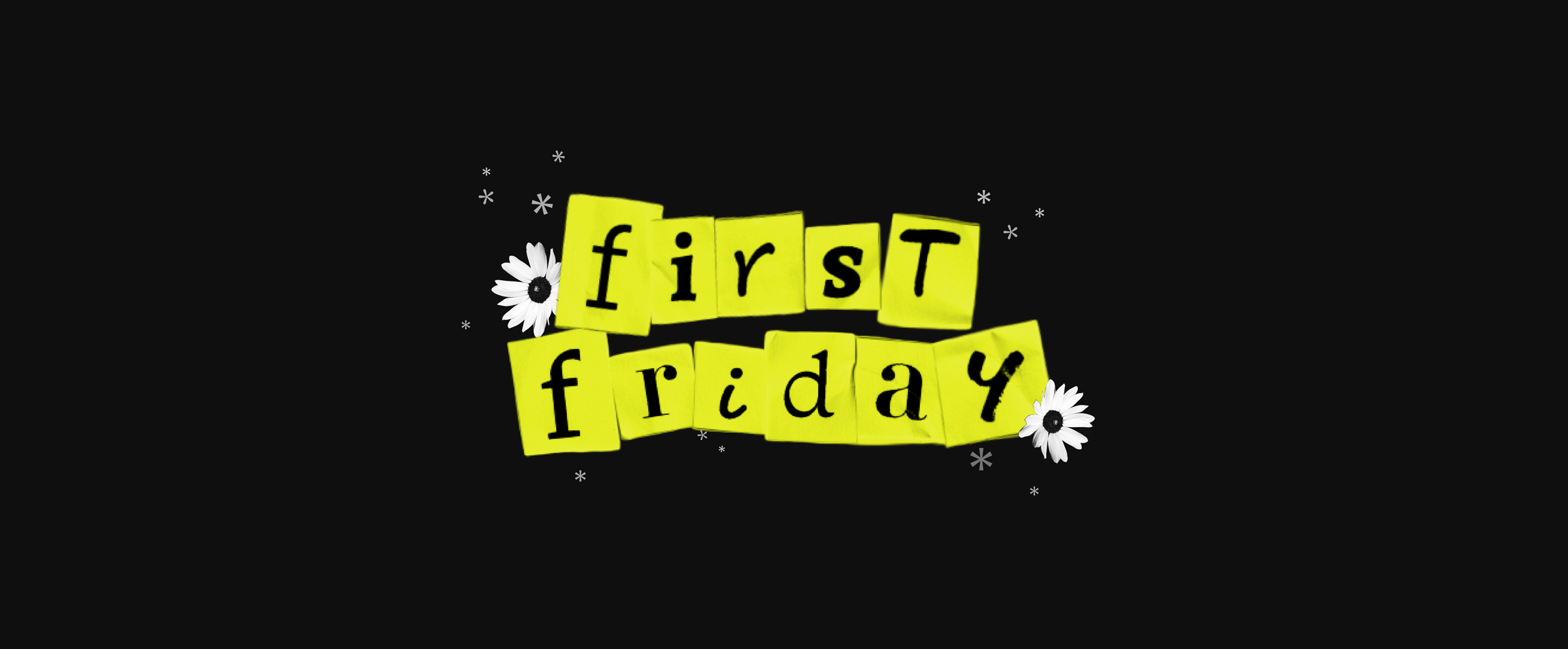 INSPIRATION
---
My inspiration for this project came from one gallery in particular, The Tugboat Gallery which is pictured above. Upon entering the gallery, you will find an overwhelming amount of art lining the halls and small studios jam packed with art of all varieties. There is always something unexpected to be found at Tugboat and is it the most eclectic display of creativity in our community.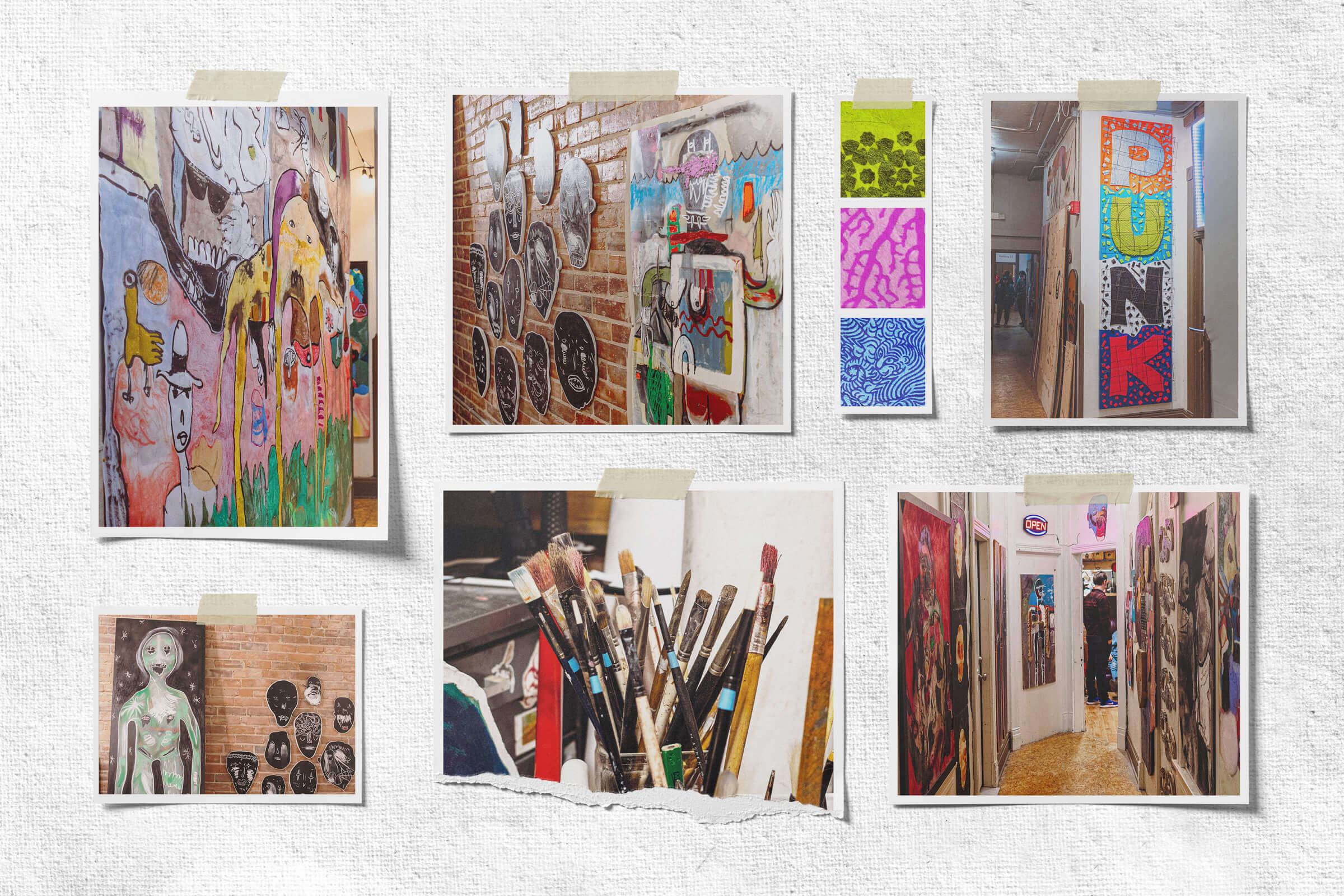 CREATIVE PROCESS
---
As I was walking through one of my favorite local art stores, I stumbled upon a collection of ornate, patterned paper. As soon as I saw them, I knew these paper scraps would be perfect to help bring my vision to life. I chose to scan these in and amplified their color and texture. These patterns and colors would be used throughout the campaign and incorporated into their new identity. The paper scraps were used in different ways to create a thrown together, collage like feel which captures the feel of the Tugboat Gallery and the experience of the event as a whole.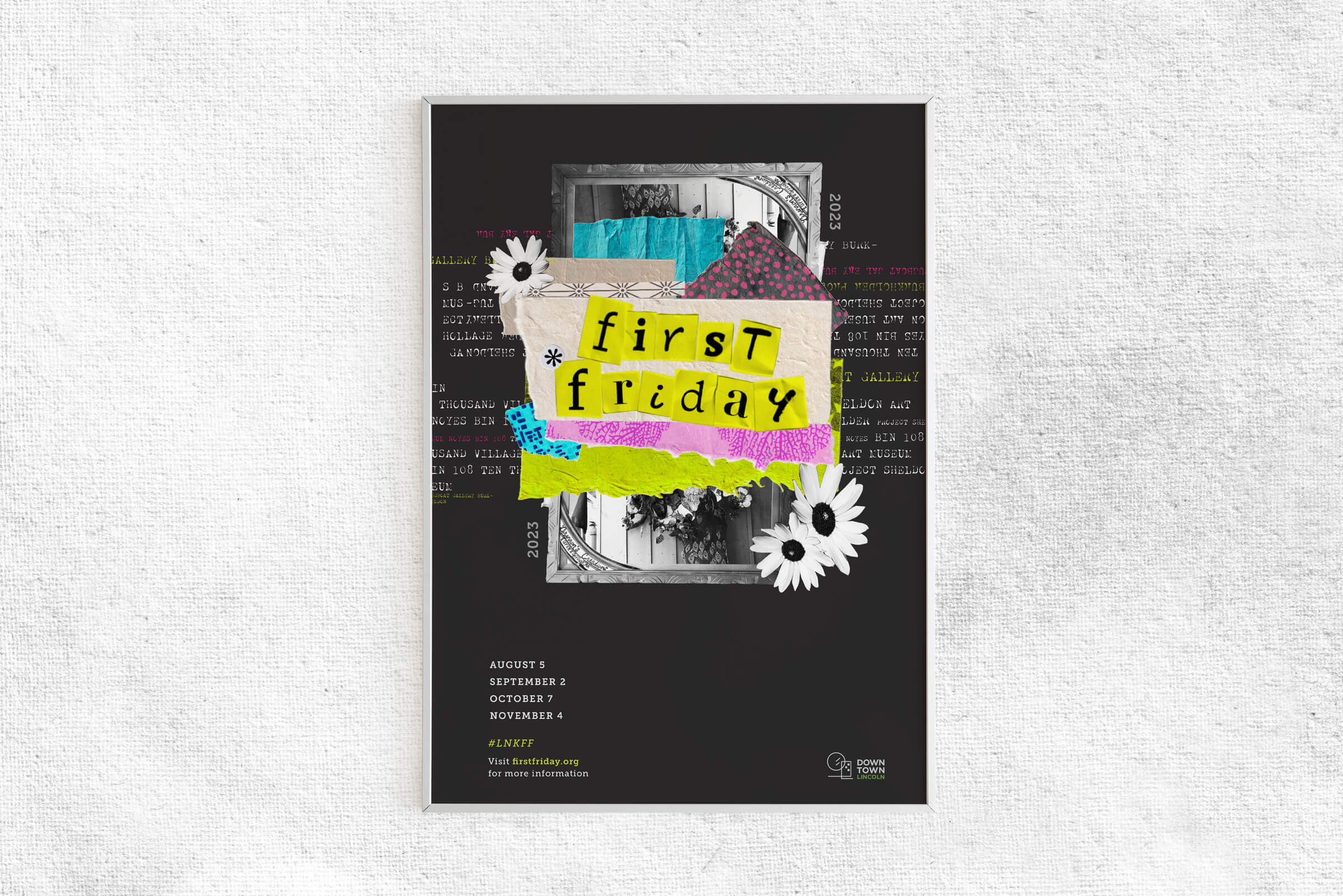 PROMOTIONAL CAMPAIGN
---
These flyers were handed out throughout the downtown area in coffee shops, bars and other galleries who were participating in the event. The striking colors and unique typography were included to catch the eye of Lincoln's creatives and intriuge our audience to learn more about what First Friday offers.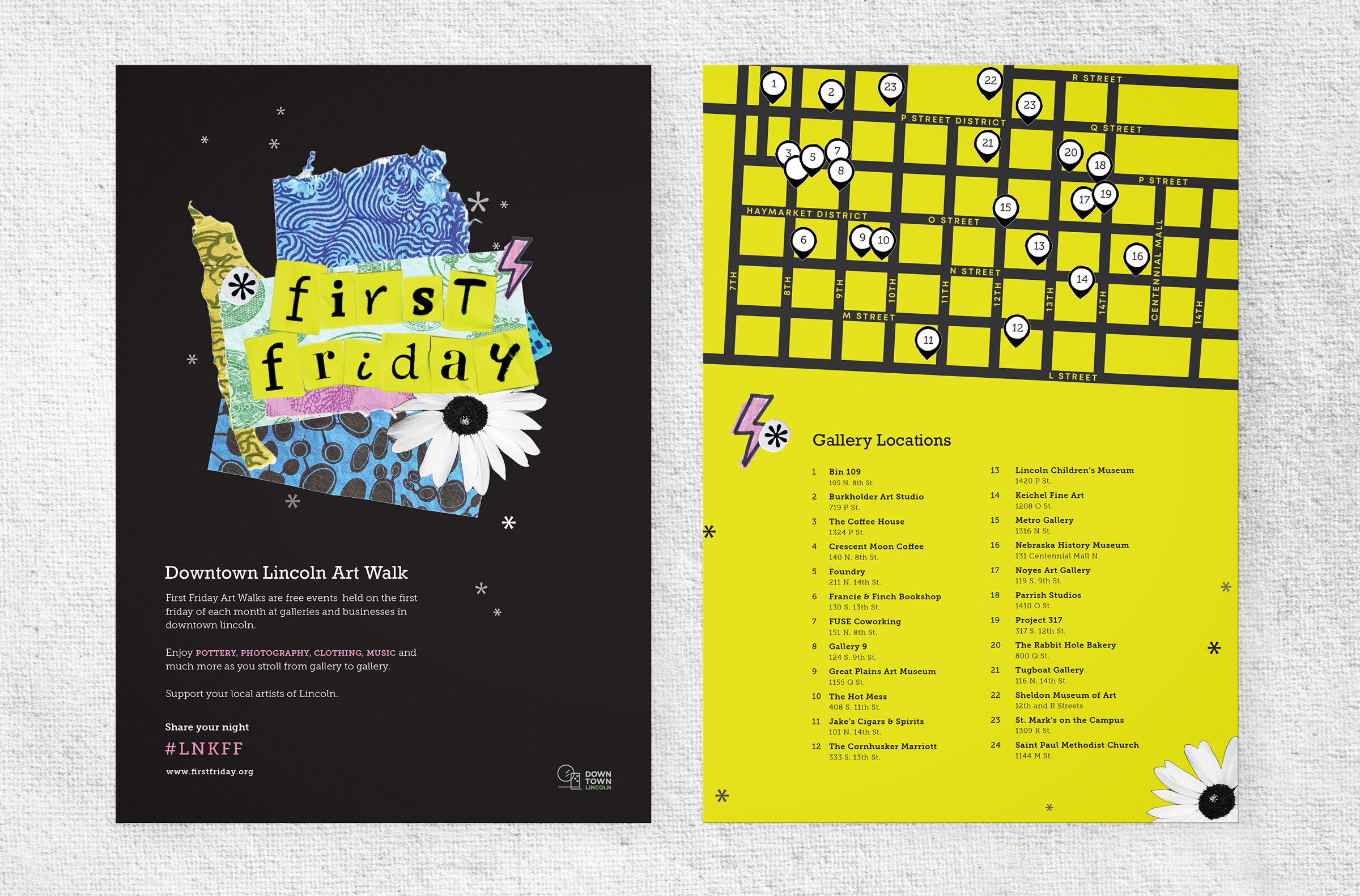 BROCHURE DESIGN
---
This brochure design is something that is used as a seasonal template which features a map of the gallery locations, information about the event its self as well as a selection of featured artists throughout that seasons months. It is now being displayed and offered at all participating gallery locations throughout the year.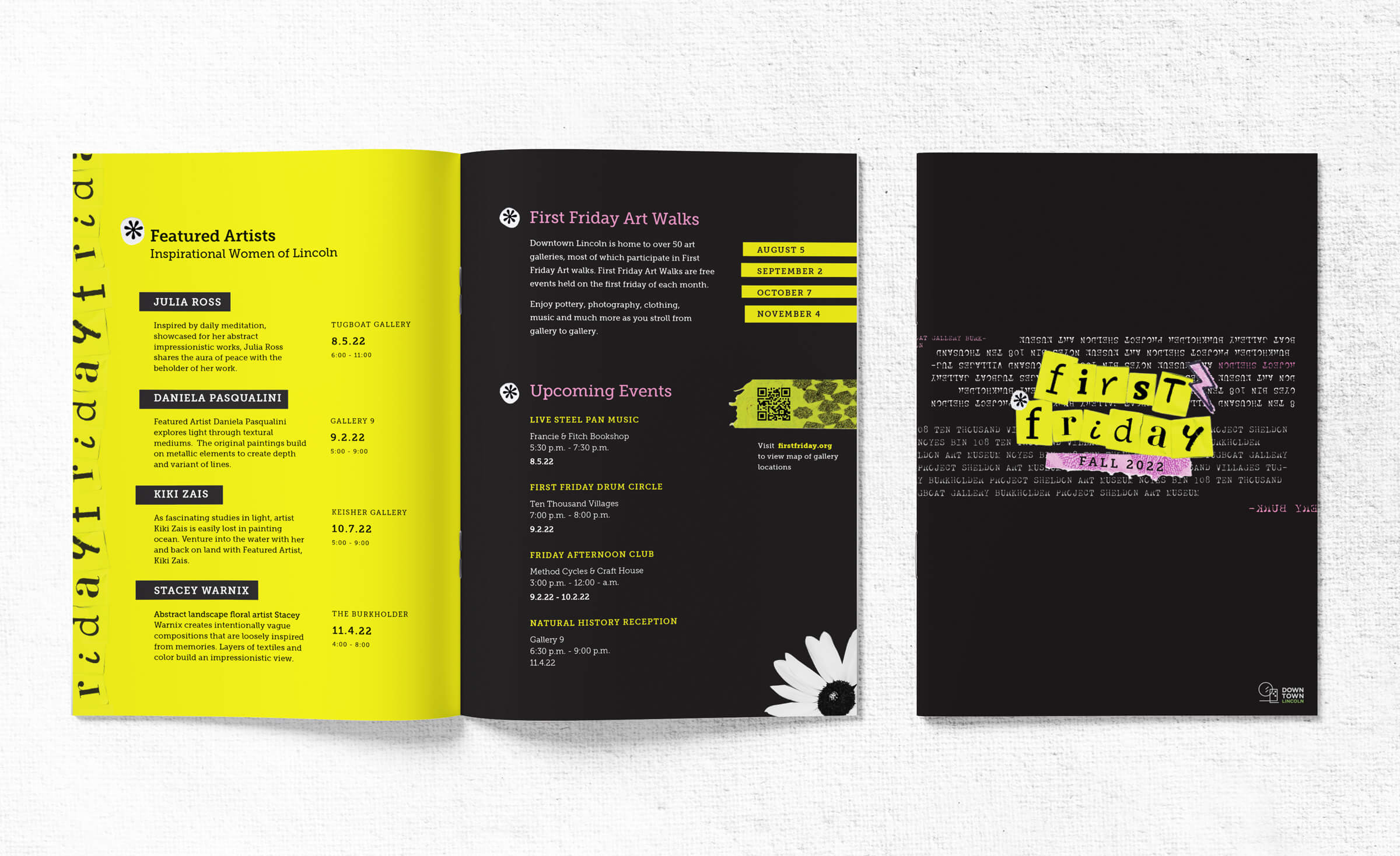 MERCHANDISE DESIGN
---
Creating different merchandise options was a key component to this campaign. Apart from purchasing art from the galleries themselves, we wanted to offer our own branded merchandise for the artists and visitors to feel connected to the event and continue spreading awareness about First Friday Art Walks.